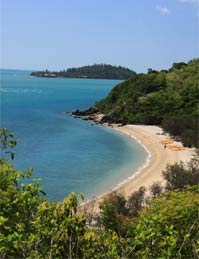 Kayaking directly from our waterfront base at Shute Harbour, paddlers wind their way through the inner islands before head out to nearby White Rock.
Time is spent here snorkelling and swimming before crossing the Molle Passage to Sandy Bay on South Molle Island.
The waters off the Molle Islands are home to sea turtles, dolphins, soaring sea eagles and a myriad of colourful tropical fish. The migrating humpback whales frequent the area between July and September and are often spotted.
At South Molle kick back and relax or take another opportunity to snorkel the fringing coral reef accessed directly from the beach.
For the more energetic people, there is time to trek part of the Mount Jeffries Walking Track, lined with ancient grass trees which attract many varieties of butterflies. The walk boasts panoramic views across Whitsunday Island, Hamilton Island and the vast Conway State Forest plus equally stunning aerial vies down into Sandy Bay and Shute Harbour.
A mouth watering beach-based buffet lunch is provided before kayaking back to Shute Harbour in the afternoon.