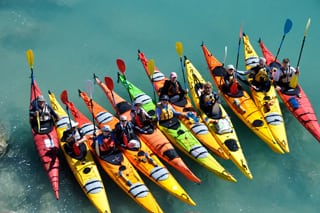 Create inspiration and strong bonds within your staff in the beautiful and diverse Whitsunday Islands. Our sea kayaking activities are specifically designed to help managers and staff improve leadership, communication & cooperation skills in a relaxed and fun environment.
More challenging options are available for advanced "team building" – just let us know your desired outcomes and we'll be happy to plan an appropriate sea kayaking / outdoor "experience".
Clients can choose from a relaxing half or full day kayaking through to extended overnight expeditions with the option of camping out or utilising one or more of the resorts in this region. A fast mini-barge is available which can allow your team to begin their experience on one of the many remote islands plus our support boat "Hammerhead" is also available to escort any activity if required.
No previous experience is necessary and large groups are welcome.
Clients can organise their own food & refreshments or leave it to us.
Catering options include light snacks through to beach barbeques and picnic lunches.
Contact us today to discuss your options