Hire/Rentals
If you are experienced kayakers looking for a Whitsunday wilderness experience, and would prefer not to join a guided trip, then freedom kayak rental is for you.
Both double and single sea kayaks are available for hire, as well as camping and snorkelling gear. We can assist you in planning your trip – from suggested routes to information on areas suitable for snorkelling and bush walking. Our staff have the local knowledge and expertise to get you out there, enjoying the natural beauty of the Whitsunday Islands.
You can choose to start a trip directly from our mainland base at Shute Harbour or we can help arrange a water taxi for a remote drop off and/or pick up.
ALL BRIEFINGS ARE CONDUCTED AT SHUTE HARBOUR. IF FLYING INTO HAMILTON ISLAND, YOU WILL NEED TO MAKE YOUR WAY TO SHUTE HARBOUR FOR KAYAK BRIEFING.
For people with limited kayaking experience, who would like to hire a kayak, you will need to take the water taxi out to an island with your kayak. You then keep a base camp and have fun experiencing day paddles directly from your campsite. For this option, we have sit on top kayaks available.
Closed Christmas Day, Boxing Day and New Year's Day
MUST BE ABLE TO SWIM
MUST SPEAK AND UNDERSTAND ENGLISH
MINIMUM NUMBERS OF 2 PEOPLE
MUST HAVE MOBILE PHONE
SEA KAYAK HIRE RATES
RENTAL PERIOD
HALF DAY (8am-12pm)
FULL DAY
(8am-4pm)
4 DAYS OR MORE
SINGLE SEA KAYAK (for very experienced sea kayakers)
$80
$110
$100/Day
DOUBLE SEA KAYAK (for experienced sea kayakers)
$110
$130
$120/Day
SIT ON TOP 2 PERSON KAYAK (go camping, water taxi transfer available) – minimum 2 nights
$80 per night
SIT ON TOP 1 PERSON KAYAK (go camping, water taxi transfer available) – minimum 2 nights
$60 per night
Rental rates in Australian dollars and include GST
Special rates for extended rentals. Rent a kayak for 6 days and receive the 7th day free of charge. If you hire for 2 weeks, receive 3 free days.
KAYAK RENTALS INCLUDE
Kayak, paddle, buoyancy aid, spray skirt, spare paddle, dry bags, waterproof charts/tide tables, flares, V-sheet, whistle, pump, sponge & vinegar. Please bring along your own first aid supplies
You must bring a mobile phone (Telstra has the best reception on the islands).
We also provide a comprehensive briefing in equipment usage, correct paddling techniques (if required), communication/safety procedures and local weather/tidal conditions.
Salty Dog Sea Kayaking requires that all sea kayak rental participants are able to swim, have previous kayaking experience and are proficient in correct open water rescue procedures. We reserve the right to limit paddling area or refuse rental clients.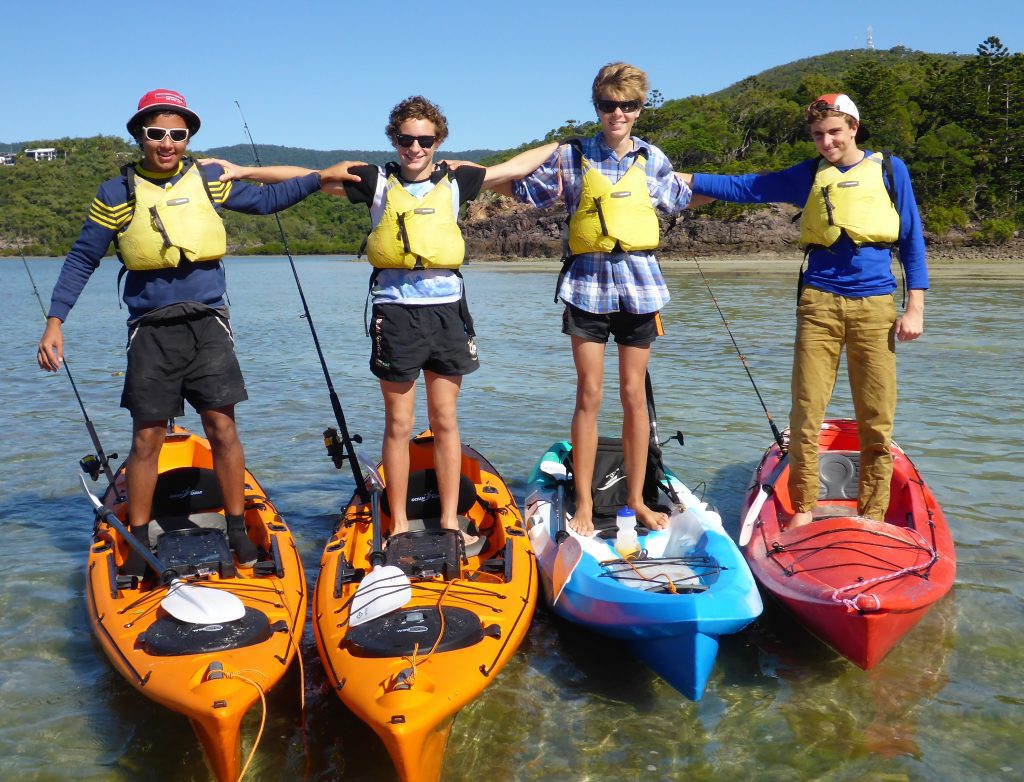 What to bring
Personal Items, Medication, Waterproof Camera, Toiletries, sunscreen(30+), Insect Repellent Water bottle,( we can supply some 10 litre water bags) & a Mobile Phone (Telstra). There is limited Mobile/Cell phone on the east coast of Hook & Whitsunday Islands and the northern end of Hook Island. For peace of mind, some clients paddling in these areas choose to bring a satellite phone. You will need to organise this yourself ahead of time. Sat phones can be hired from orbiting.com.au (Townville) or 07 44015864. This can be organised online – we are happy for them to be sent in advance to our Postal Address: Salty Dog Sea Kayaking, PO Box 1176, Airlie Beach 4802,
Clothing
Bring shorts/tee shirt, swimming clothes and towel, hat and sunglasses
You may want to bring long sleeved sun shirt and shoes that you can get wet (such as thongs, sandals or strap on shoes). Sandshoes are suggested if you are planning on bush walking. A long sleeved shirt and long pants are useful for the night time – (plus a warm top and pants in winter) A light weight rain jacket is also useful – just in case!
Food
Storage space is at a premium in a kayak so it's best to bring "condensed" foods such as flat breads, muesli and pasta. You will need to pack perishable foods including any meat and dairy products on ice in a cooler bag. They should last up to 2 days. Don't forget the all important snacks like nuts and muesli bars.
Camping Gear
On overnight trips, you will need a lightweight tent, sleeping mat & sleeping bag, A small tarpaulin is also useful. No fires are allowed on the Whitsunday islands so you will need to pack cooking a camp stove plus crockery & cutlery. Don't forget matches/lighter & a torch.If you wish to hire camping equipment from us please let us know when you make your booking.
Suggested Routes
There are numerous kayaking options & we are happy to assist with route planning once you have booked. When looking at possible paddling itineraries, you need to take into consideration the time you have available, your kayaking ability/experience and prevailing weather conditions.
We can discuss your route plan with you.
Water Taxi / Barge Service
A water taxi / fast barge service runs from our depot at Shute Harbour. The water taxi can take you with your kayak and all your gear to a variety of campsites in the Whitsundays. It usually leaves once a day to a schedule based around the time of the high tide. This service is ideal for paddlers wishing to begin their kayaking experience out on an island. It is also perfect for paddlers with limited time or limited experience in open water crossings. Reprovisioning of pre-packed food, water or supplies is also available. For more details on this service see http://www.whitsundaycamping.com.au/
Requirements
All parties renting are required to sign a hire agreement agreeing to responsibility of equipment and personal responsibility.
Credit card deposit or $200. cash bond required plus photo I.D.
If under 18 years of age, parent/guardian must accompany and sign on their behalf.
Any lost or damaged equipment will be charged for at full retail rate.
Rentals are not available to solo kayakers (for safety/insurance reasons).
All potential paddlers need to attend a safety briefing prior to heading out.
Please ensure you have read Salty Dog Sea Kayaking cancellations and refund policy for rentals.
Camping Equipment Hire
We do not provide camping equipment for hire -so please bring your own. We do sell screw in gas cannisters for camp stoves.
Snorkelling gear and stinger suits are available for hire. This can be organised ahead of time or on hire start date.
There are a number of good camping stores in the Whitsundays including Anaconda, BCF and Big W ( all located at Centro in Cannonvale ) and Whitsunday Caravan Camping & Trailer Centre.
Booking a Campsite
The cost of a camping permit is approximately $6.85 per person per night with family rates also available. This rate may change. Permits can be booked over the internet or phone or in person at one of the National Park Offices in Queensland. It is recommended that you book well in advance for the most popular camping spots, especially during peak periods like public and school holidays. In some parks and forests, you can book up to 12 months in advance.
INTERNET – Go to https://parks.des.qld.gov.au/parks/whitsunday-islands/camping and follow the prompts. Once payment is made a permit is issued immediately. Please note that Sandy Bay, and Paddle Bay (on South Molle), Planton Island, Denman Island and Cockatoo Beach (on North Molle)are all found under the Molle Group of Islands, otherwise most other sites found under Whitsunday Islands National Park.
PHONE – Call 131304 which is a national number and operates 7 days per week and is surprisingly easy. You need to give the location, site, your name, emergency contact details and payment details, you will then be issued with a permit number.
NATIONAL PARK OFFICES – Any of the National Park Offices in Queensland can issue a permit over the counter. There is a local office between Airlie Beach and Shute Harbour (corner of Mandalay and Shute Harbour Road), Phone number is 07 49677355, they operate Monday to Friday office hours and Saturday morning.
If booking via internet or phone, you will be issued a permit number, tent tags are obtained from National Park Offices, we also keep a supply of them at Shute Harbour. These are attached to your tent, so if you are not at your tent when Rangers are inspecting, they can check your details on your tag.
Keeping the Whitsunday Islands pest free is important to us. Currently the Great Barrier Reef islands are the most pest-free islands in the world. You can help to keep them that way. Please play a part before your next trip to the islands. Check and clean your gear. Read the Be pest-free! (PDF, 575KB) brochure for more information or click into the following links.
https://www.qld.gov.au/environment/coasts-waterways/reef/islands-biosecurity/be-pestfree
https://www.qld.gov.au/environment/coasts-waterways/reef/islands-biosecurity/management